Tampa Grout Sealing
Your floors see a lot of action in a day. They endure the coffee and food spills, mud from outside, and the every day wear and tear. Weather you choose a light or dark color grout, the fact remains that grout harbors mold, mildew, and germs. Keep your family and pets safe from mold and germs with Tampa grout sealing!

Protect your floors and family with Grout Rhino!
Grout Rhino takes extra care when sealing your grout with a process called colorseal. It is always good idea to colorseal your grout because it protects your floor from getting discolored or stained in the future. We even give you the option of completely changing the color of grout without the expensive process of ripping out the existing grout! Tampa grout sealing provides our customers with floors that look like new for a fraction of the cost of replacement.  After a thorough cleaning and preparation of your grout, Grout Rhino applies its grout sealing ColorSeal to your grout lines.  Following a final buffing process, the result is a beautiful, stain-resistant, water-resistant, and mold-resistant grout sealing that is designed to last for  years.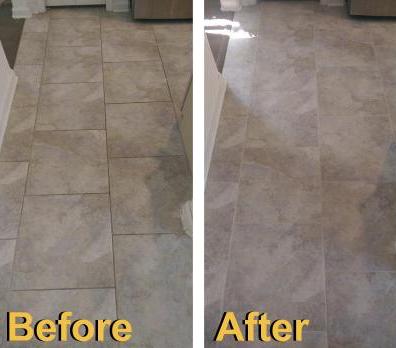 Here you can see the difference that Tampa grout sealing with colorseal can do for you! In the before photo you can see the dirt and grime changed the color of the grout. With our colorseal you can see how much cleaner and fresh their home now feels. Not only does colorseal give your floors a new look and feel it also protects them from future wear and tear! Grout Rhino's colorseal protects your floors and it protects your family and pets from toxins! Tampa grout sealing is proud to use top-of-the-line environmentally safe grout sealing materials on our customer's tiled surfaces to keep your family and pets safe from toxins.
Let us help you protect your floors and family from germs and grim!
If you would like more information about our company, or are in need of our grout cleaning and grout sealing services, please give us a call today at (203) 273-6803. We look forward to hearing from you!