Tile is not the only thing important on your tile floors. Make sure that you have a professional grout cleaning done at the same time. Grout Rhino will scrub the grout in between the tiles of your floor to bring out the same clean look that it had when it was first put down. Over time, the grout will begin to look dingy, and the grout color will yellow from wear and tear. Get the whole grout in your house cleaned and pampered and save money.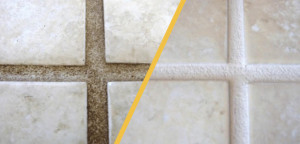 Tampa Grout Cleaning Detailed Image
Grout Cleaning Tampa – Job Photos
Before
After
Grout, which is very porous, collects dirt, grime and spills, often discoloring the surface. Regular mopping and spot cleaning won't reach the hidden dirt that lies deep within the pores of your grout lines. Contact Tampa Grout Cleaning company Grout Rhino for tile and grout cleaning and sealing in Tampa Bay Area. Our state of the art grout cleaning system will extract dirt from deep within the tile and the pores of the grout. Schedule your free in-home Grout Cleaning estimate today.
Professional Tampa Grout Cleaning Services
Grout lines are notoriously difficult to clean. Every homeowner (and business owner!) knows that regular mopping, home tile cleaners and home grout cleaning methods just don't do the trick, especially if you're trying to eliminate stubborn dirt that has settled on deep into grout lines.
Grout Rhino ColorSeal – Tampa Grout Repair
Call Grout Rhino, Tampa Grout Cleaning Company, and we'll come to the rescue! Grout Rhino's professional Tile Cleaning and Grout Cleaning process will keep your tile surfaces, grout lines, countertops and backsplash clean and fresh. We can boldly go where bottled cleaners and household mops have never gone before!
We Love Customer Feedback! on our Grout Cleaning Services
Our grout cleaning service images speak for themselves, however, we proudly share what our customers have to say about Grout Rhino and about our grout cleaning process.  You can leave us a review  on one of the options below and we will gladly share it on our website:
Tampa Grout Cleaning & Tile Cleaning 5-Star Service Reviews
We have a 5-Star rating on Super Pages for our Tampa grout cleaning, grout sealing and tile cleaning services. You can see the reviews on this link.  Here are a couple of our customer reviews:
"Very professional service and would definitely recommend. Giuseppe came in, gave us a quote and stuck by it when he came back to do the tiles the following week. We had the tiles cleaned and the grout refreshed. It looks like new".
"I had more than 1000 square feet of tile/grout cleaned yesterday. My husband and I never try to pay for outside services but this investment was totally worth it. The owner Giuseppe and his professional team came out and cleaned my tile, cleaned my grout and then we had it colored sealed and buffed. I hated my grout lines and now I am so happy. My tile and grout look like amazing. Hard work!! I would recommend Grout Rhino to anyone seeking to clean their tiles/grout in any room of the house including your shower!!! Thank you Grout Rhino for a job well done!!"
"Just wanted to thank Giuseppe for a great job on my tile and wood floors.  You did a fantastic job and anyone who has come in to the house has asked who did our tile.   Very pleased with your professional job at a great price."   – The Sholl's Family (via email on February, 10th 2014)
"Yes, you did make my tiled bathroom floor look like new. It has been about a year since the work was done and I still "show it off" to visiting family as the example of  a job beautifully done. The old grout, from the previous home owner was low profiled, dark and dingy…and I had tried every product known to me…and failed. The Rhino came promptly, true professionals who explained the process clearly, got to work and not only left me a polished , sparkling clean floor, but…NO MESS ! I have recommended them to my friends and neighbors and I hope they received many new jobs,…they deserve success  Why, I wonder, did I wait so long to make the decision ….and what a happy one it has been…..GORGEOUS WORK !!!!!"– Patti B.  (via email on February, 22nd 2014)
Grout Rhino also has a 5-Star rating on Facebook for our Tampa grout cleaning, grout sealing and tile cleaning services. You can see the reviews on our Facebook Page:
"Giuseppe did an amazing job at our home! I am a cleaning freak, but I couldn't get my kitchen grout clean anymore. If you are tired of cleaning your grout and tile like I was, and not seeing great results, give Giuseppe a call (203) 273-6803. He will give you a Free Estimate and a free demonstration of what you grout will look like! It was all worthy – Thanks again Giuseppe!"– Kell E.  (via Facebook on April, 9th 2014)
The Talk of Home Advisor 5-Star Reviews for Tampa Grout Cleaning Services
You can find more reviews as well at HomeAdvisor.com such as:
"presentation was excellent .estimate was in line with others. performed job on time and as expected. i would recommend this pro to others."
"We are very pleased with the service and quality of work performed by Grout Rhino. I have already recommended them to a friend of mine."
"Arrived on time, did a great job and cleaned everything up. Did the job for the quoted price. That's what I call a outstanding contractor."
Call us today to request your FREE Grout Cleaning ESTIMATE at (203) 273-6803. You may also reach us by using the Contact Form in the side bar of our website. We look forward to hearing from you!